Launched at end-October 2018, the Dacia Buy Online website lets customers purchase their vehicle entirely online, a first for the UK market. Customers can buy their Dacia whenever and wherever they want. RCI Financial Services supported the manufacturer in digitalizing the entire customer journey. This includes establishing the monthly budget, applying for finance online, checking the customer's identity, e-signature of the finance contract a module allowing payment online.
With Dacia Buy Online, customers can complete all the stages in the buying process online, including financing the vehicle, subscribing to services or additional warranties, and the choice of delivery method. What makes the site truly unique is that when logging on to the website https://buy.dacia.co.uk, customers start by entering their budget: deposit and monthly installments.  The website then displays the models corresponding to their search. Naturally, customers can opt for the financing solution that best suits their requirements: cash payment, conventional credit or a leasing contract.  They then select the vehicle options and services to which they wish to subscribe, such as a warranty extension or maintenance contract. The last and final step for the customer is to decide where they wish to take delivery of their Dacia: at the dealership or at home. The vehicle will be delivered two weeks later.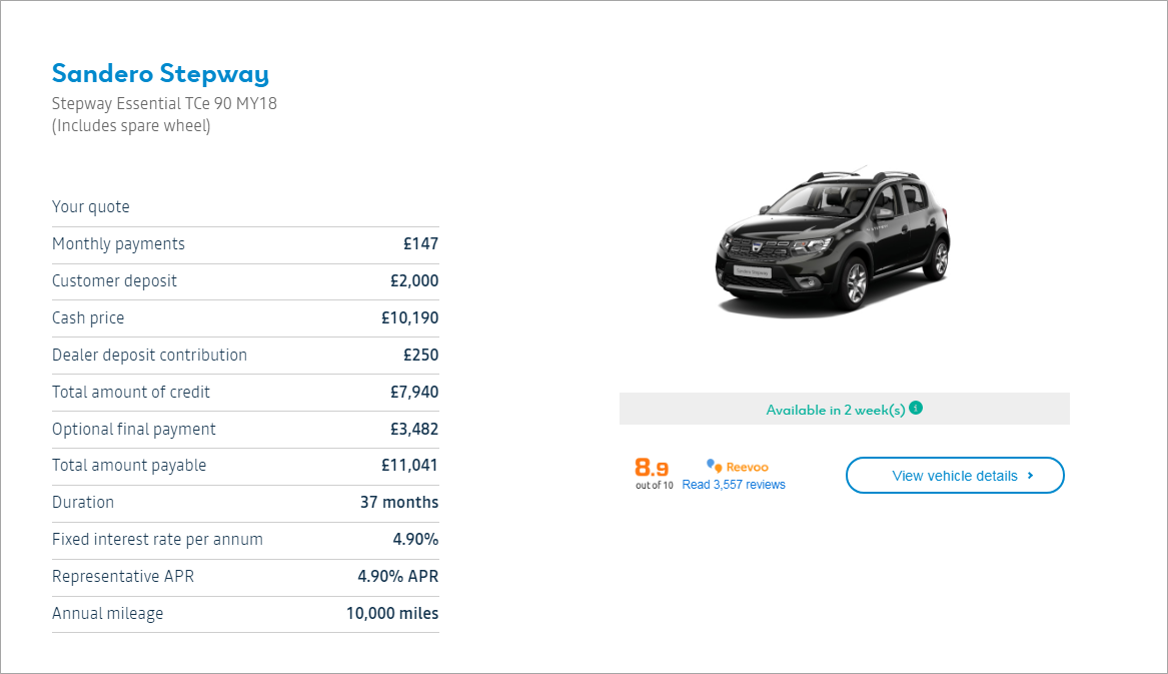 A customer experience enriched by digital technology
Dacia decided to work with RCI Bank and Services to digitalize the entire customer journey. After receiving all the information necessary to accept the customer's finance application, RCI Financial Services runs an identity check by asking him/her to take a selfie. The objective? To check that the photo matches to the ID provided online. Following this automatic check, which takes just a few seconds to complete, the customer can authorize the finance contract using click-to-sign.
Moreover, transactions relating down payments are managed securely and automatically through RCI e-payment, the online payment solution developed by RCI Bank and Services.